Hello guys, je suis enfin de retour avec un article un peu plus travaillé (profitant de mes derniers jours de vacances) et que je n'ai jamais fait avant. Si vous me suivez sur insta, vous avez peut-être vu que je m'étais remise à FRIENDS, parce-que je ne peux pas m'en empêcher, je reviens toujours aux sources. Je viens de finir la première saison et je me suis dit que ce serait sympa de vous proposer un article ou je vous propose une sélection de vêtements inspirée du style de Rachel Green, Monica Geller et Phoebe Buffay, le golden trio féminin de la série. C'est la première fois que je mets en page une sélection fringues alors j'espère que ça vous plaira. J'ai fais toute mon repérage sur asos parce-que il y a un large choix et que c'était plus simple pour moi pour un premier essai. Vous pourrez retrouver des vêtements/accessoires inspirés de tenues existantes dans la série mais pas que, j'ai aussi choisi quelques pièces qui me rappelaient tout simplement le style des filles et ce qu'elles pourraient porter. 
Hello guys, I'm finally back with a little more worked post (enjoying my last days of rest) and that I never did before. If you follow me on instagram, you maybe saw that I start again FRIENDS, because I can't control myself, I always get back to basics. I just finished the first season and I tell myself it'll be cool to propose you a selection of clothes inspired by Rachel Green, Monica Geller and Phoebe Buffay's style, the female golden trio of the show. It's a kind of get the look ! This is the first time that I lay out a clothes selection so I hope you'll enjoy it. I did my tracking on asos because there is a huge choice and it was simpler for my first try. You could find clothes/accessories inspired by real outfits in the show but not only, I also chose some items which simply remind me the girls' style and what she could possibly wear. 
Rachel est pour moi la plus stylée de la bande, même si Monica n'est pas très loin derrière. On sent quand même que pour Rachel c'est un vrai plaisir de s'habiller. Ses looks sont toujours soignés et à la pointe de la mode. Elle a l'air d'aimer particulièrement les jupes et les robes, et c'est toujours trop beau. Elle sait parfaitement ce qui lui correspond et comment accorder différentes pièces. Encore aujourd'hui on est beaucoup à vouloir reproduire certains de ses looks tant ils sont au goût du jour ! Qui n'a jamais rêvé d'avoir telle jupe, tel haut ou telle robe en regardant FRIENDS ? (peut-être pas si vous ne regardez pas la série, ça se tient). Comme je vous l'ai dit dans l'intro de l'article, dans ma sélection j'ai mélangé des pièces inspirées de vraies tenues présentes dans la série mais également certaines que je trouve pertinentes pour Rachel et qu'elle (ou vous et moi) pourrait porter. J'ai en quelque sorte fait du shopping pour Rachel Green...
Rachel is, in my opinion the most stylish of the band, even if Monica is not far behind. We still feel that for Rachel, it's a real pleasure to dress up. Her looks are always neat and we see she carefully follows fashion trends -with taste-. She seems to  particularly love skirts and dress and it's always pretty. Actually she perfectly knows what fits her and how match different items of clothing. Even today we are a lot to want to reproduce her looks, it's showing how much it still fashionable ! Who has never dreamed to have such skirt, such top or such dress while watching FRIENDS ? (maybe not you if you don't watch the show, that makes sense). As I said in the article's introduction, in my selection right below, I decided to mix clothes inspired from real outfits of the show and clothes which remind me Rachel and she (or you and me) could wear. I kind of went shopping for Rachel Green...
Je passe ensuite au style de Monica que j'aime beaucoup également ! Sa marque de fabrique dans les premières saisons (en "vieillissant" elle en met moins) c'est le jean mom. Elle en a toute une panoplie et ça stylise tout de suite ses tenues. C'est d'ailleurs elle qui m'a donné envie d'en acheter (je n'avais qu'un jean boyfriend jusqu'ici), et ça tombe bien parce-que c'est très tendance en ce moment. Sa garde-robe est peut-être légèrement moins variée que celle de Rachel mais elle nous a quand même sorti des looks iconic ! Je pense notamment au débardeur rouge avec le jean mom bleu ciel. J'ai essayé de dégoter des vêtements qui me faisait penser à elle, et honnêtement si j'avais l'argent, je prendrais tout ! 
Then comes Monica's style that I love a lot as well ! He trademark in the first seasons (with "age" she wores them less) is the mom jeans. She has a whole range and it's stylized her outfits. It's actually her who inspire me and made me want one (I had only boyfriend jeans so far), and that's great because it's very trendy at the moment. Her wardrobe is maybe slightly less diverse than Rachel's one but she still offered us iconic looks ! I am thinking particular of the look with a red tank top and light blue mom jeans. I tried to find clothes which remind me her and honestly if I had money, I'd take everything !
Je finis avec Phoebe, celle qui me fait beaucoup trop rire avec ses réactions ou ses réflexions wtf. Si vous connaissez bien la série, et donc le personnage, vous savez que son style est très particulier ! Entre kitsch, coloré, bohème ou excentrique, on ne sait pas vraiment le qualifier, mais justement c'est tout ce qui fait son charme ! Ce qu'on retient principalement de ses looks c'est ses vêtements amples et assez longilignes, mais ce que j'aime c'est que c'es toujours super original. Certaines pièces sont parfois moins portables, certes, mais 100% uniques. Tout comme pour Rachel et Monica, j'ai essayé de trouver des pièces qui portent la patte de Pheebs (surnom pour les intimes) et je ne suis pas peu fière d'avoir dégoté un dupe du mythique manteau orange de la scène "NO MY EYES MY EYES", je vous laisse voir ça ! 
I end with Phoebe, the one who makes me laugh a lot with her wtf reactions and reflections. If you know well the show and therefore the character, you know her style is very particular ! Between kitsh, colorful, bohemian or eccentric, it's difficul to describe it but that's precisely why we love her so much ! What we keep in mind with her looks is mainly her ample and elongate clothes, but the thing I love is the fact that's always original. Some items are a little less wearable, okay, but 100% unique. Just like Rachel and Monica, I tried to find clothes which wear Pheebs (nickname for the inner cercle) mark and I'm quite proud to find a copy of the orange coat she wears in the mythical scene "NO MY EYES MY EYES", I let you check that !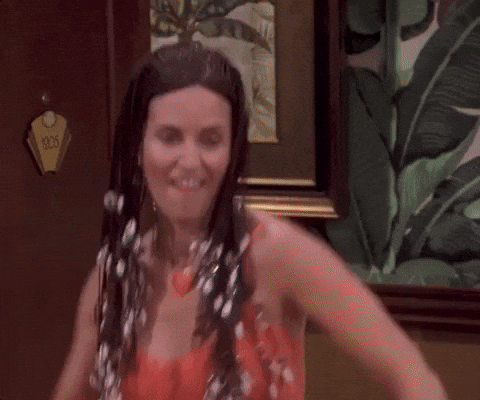 gif pour le plaisir
J'espère que cet article qui change un peu de d'habitude aura plu, et si vous avez des suggestions pour d'autres personnages de séries/films, je suis preneuse ! N'hésitez pas à me dire quel style vous ressemble le plus ou celui que vous préférez. Passez une bonne fin de week-end et n'oubliez pas de binge-watch FRIENDS...
I hope you enjoyed this new kind of post and of course if you had any suggestions for others tv show/movies characters tell me ! Also, don't hesitate to tell me which style looks the most like you or the one you like better. Have a good -end-  week-end and don't forget to binge-watch FRIENDS...
See you soon x
Diane