If we have to be locked up, we better cultivate ourselves – me. 
Hello, j'espère que vous allez bien et que ce confinement n'est pas trop dur pour vous même si ça commence à être un peu long.  Pour ma part j'ai quand même la chance d'avoir un jardin et d'être dans un trou paumé qui me permets de me balader un peu bien que les verres en terrasse me manquent pas mal. Du coup j'espère que l'article d'aujourd'hui va un peu combler votre ennui puisque je m'apprête à vous conseiller quelques films Ghibli que vous devez absolument voir. Et ne soyez pas comme mes potes qui me disent « Oui je regarderai un de ces jours » et qui ne le font jamais, en ce moment vous avez -supposément- le temps…
et si vous n'en avez pas assez avec cet article, vous pouvez aller voir le premier que j'ai fait à ce sujet : 
-L'univers Ghibli : mes films favoris!
Hello I hope you're okay and that the confinement is not too difficult for you even if it begins to be quite long. Personally I'm lucky to have a garden and to live in the middle of nowhere so I can quietly walk in my countryside even if honestly drinks on  terraces miss me a lot.  So I hope that the post of the day will satisfy a little your boredom because I'm about to suggest you some Ghibli movies that you nee to see. And don't be like most of my friends who say « Yes I'll watch them one day » and never do, now  you have -supposedly- more time…
PONYO SUR LA FALAISE //

PONYO
2009
J'ai eu le plaisir de le revoir il y a quelques jours (merci Netflix) et je peux vous dire que c'est vraiment une merveille ! Le travail de graphisme est vraiment impressionnant, les couleurs et l'animation sont à couper le souffle et puis l'histoire, unique et poétique, comme très souvent dans les Ghibli. Je pense que c'est un des plus mignons avec Totoro. Honnêtement, c'est impossible de ne pas être touché par l'histoire de Ponyo et de Sosuke, ils méritent tout le bonheur du monde !
I had the pleasure to watch it again lately (thank you Netflix) and I can tell you it's really fabulous ! The graphic design work is sooo impressive, the colors and the animation are breathtaking and the story is unique and poetic like it's always the case with Ghibli studios. I think it's one of the most cute with My Neighbor Totoro. Honestly, it's impossible not to be touched by the story of Ponyo and Sosuke, they deserve all the happiness in the wolrd!
PRINCESSE MONONOKÉ //

PRINCESS MONONOKE
2000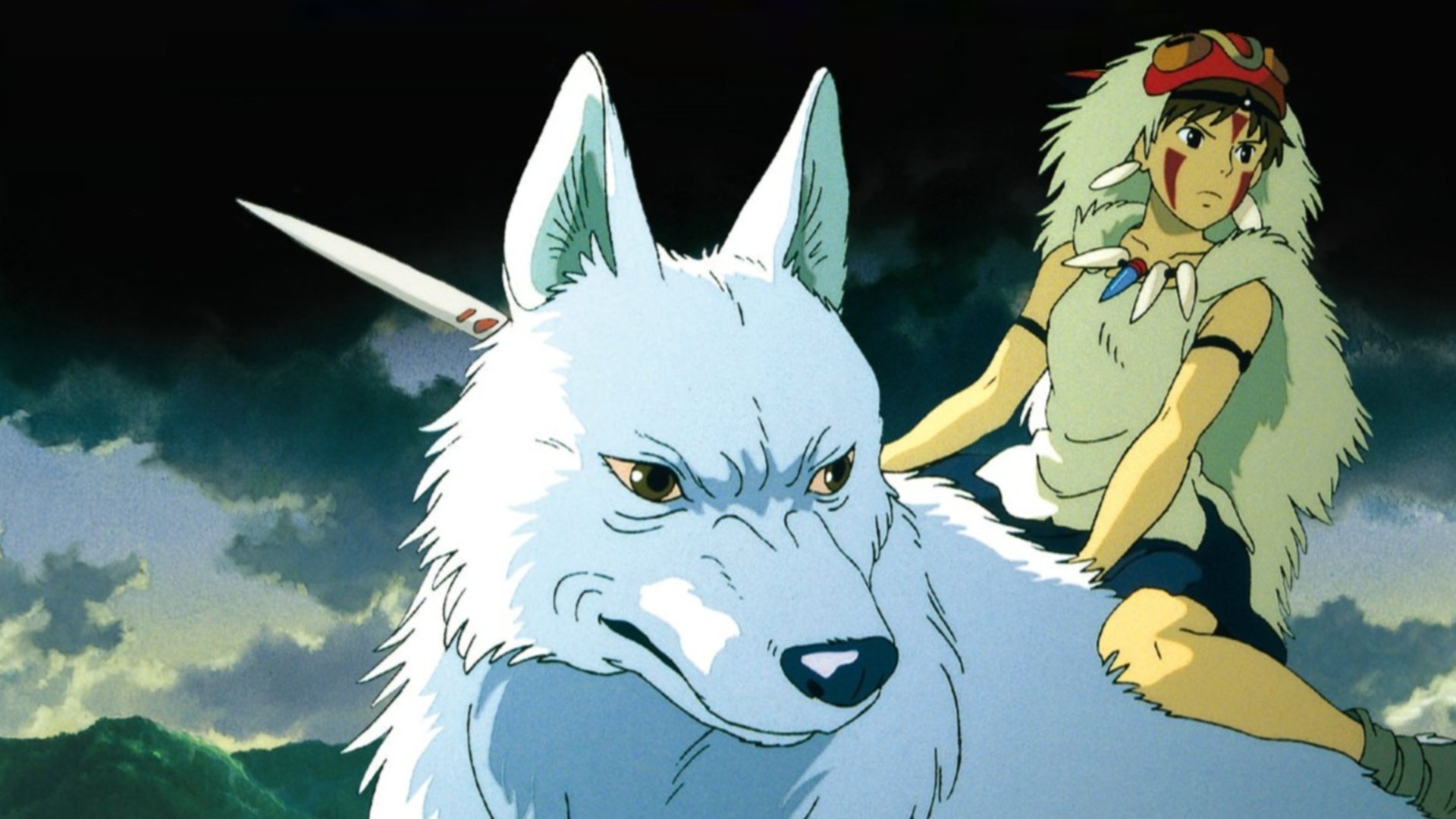 Alors celui-ci doit être un des plus violent et n'est pour moi, pas destiné aux enfants, tout comme Pompoko d'ailleurs, je pense qu'il faut avoir une certain maturité pour bien saisir l'histoire (et puis il y a des scènes assez effrayantes). Je l'ai également revu il y a peu de temps et je l'ai adoré. J'ai été très sensible à la vision que Miyazaki porte sur la nature et les animaux et de l'attachement de la jeune Mononoké à ces derniers. Je trouve ça aussi super que ça se passe durant l'époque Muromachi (à peu près entre 1336 et 1573 selon Wikipédia) et qu'il y ai autant de références aux coutumes et croyances japonaises. Ce film est vraiment un MUST SEE. 
This one is surely one of the most violent and, for me is not intended for children, just like Pompoko by the way, I think some maturity is required to understand and appreciate the story (then there are some pretty scary scenes). I also watch it again lately  and I just loved it, in fact I was very touched by the vision that Miyazaki carries on nature and the animals and consequently the attachment that the young Mononoke has for it.  I also find it great that it takes place during the Muromachi era (approximately between 1336 and 1573 according to Wikipedia) and that there are as many references to Japanese customs and beliefs. This movie is a MUST SEE.
ARRIETTY, LE PETIT MONDE DES CHAPARDEURS //

ARRIETY
2010
Ce film est un mélange de fantaisie et d'une rencontre humaine touchante et sincère. La part de fantaisie réside dans l'existence des chapardeurs qui sont des petits Hommes vivant sous les planchers des humains en prenant garde de ne jamais être vus…et puis il y a cette rencontre entre Arrietty, chapardeuse de 14 ans et Shô, l'humain qui vit (temporairement) dans la maison au dessus de chez elle, qui est finalement la clé de l'histoire. Comme dans tout Ghibli, il y a des scènes sublimes et puis bien sûr il y a la musique qui est douce et pleine d'émotions, particulièrement celle de fin. Je l'ai vu hier soir et je trouve la dernière scène toujours aussi touchante ! Encore une pépite qu'il faut voir. 
la chanson de fin en français  ♡
This movie is a mix of fantasy and of a touching and sincere encounter. The part of fantasy lies in the existence of « borrowers » who are little  persons living under floors of humans' houses by paying attention never to be seen and then, there is this encounter between Arrietty, a 14 years girl and Shô, the human living (temporarily) in the house above hers and this encounter is the key to the story. As in all Ghibli, there are beautiful scenes and of course there is also musics which are soft and full of emotions, especially the one at the end. I saw it last night  and the end is still so touching. Again a gem that must be seen. 
LE CHÂTEAU AMBULANT //

HOWL'S MOVING CASTLE
2005
Ce film est encore une jolie rencontre improbable et pleine de magie qui est, au risque de me répéter : fabuleuse. Le personnage de Hauru, sorcier mystérieux est très charismatique ainsi que l'histoire qui se crée autour de lui et Sophie, jeune fille transformée en vieille femme de 90 ans est vraiment ensorcelante. Sophie se retrouve malgré elle dans le château ambulant à être la femme de ménage de Hauru. Au fil des jours elle découvre la vrai personnalité de ce dernier qui s'avère moins reluisante que son apparence et puis les évènements s'enchaînent et on est complètement emportés dans la quête de la jeune et de son destin qui est maintenant lié à celui de Hauru. Je ne vais pas entrer dans les détails mais sachez que ce film est également un MUST SEE des films Ghibli. Je tiens à ajouter que les personnages « secondaires » sont excellents également.
 This movie is once again a beautiful, improbable and full of  magic encounter that is, at the risk of repeating myself : fabulous. The character of Hauru, mysterious and very charismatic wizard and the story that is created around him and Sophie, young woman turned into a 90-year-old old woman, is truly enchanting. Sophie finds herself in spite of herself in the Howl's moving castle to be Hauru's housekeeper. Over the days she discovers the real personality of the mysterious witch who turns out to be less shiny than his appearance and then the events follow each other and we are completely carried away in the quest of the young woman and her fate which is now related to Hauru's. I won't go into detail but you have to know that this movie is one of the MUST SEE of Ghibli studios. I would like to add that the « secondary » characters are also excellent.
SOUVENIRS DE MARNIE //

WHEN MARNIE WAS THERE
2014
Celui-ci est un des plus récents et un des moins connus (peut-être parce-que il n'est pas de Miyazaki), pourtant il m'a marqué, même si mon cerveau lent à eu du mal à comprendre le lien qui unissait Anna et Marnie. En fait, même si j'étais étonnée, j'ai d'abord cru que ce serait une histoire d'amour et puis en fait c'est plus profond que ça. J'ai adoré assister à l'éclosion de leur amitié. Celle-ci née au gré de leurs rencontres et Anna et Marnie, malgré leurs vies très différentes, savent s'apaiser mutuellement. Elle se comprennent comme si elle se connaissent depuis toujours. J'aime vraiment le côté spirituel de ce film et, comme bien souvent, nous avons à faire à une fin très touchante. 
This one is one of the most recent and one of the least known (maybe because it's not from Miyazaki), yet it stayed in my mind. In fact I had trouble understanding the link that united Anna and Marnie because, even if it was surprising, I first believed that it would be a love story but in reality it was more deep than that. I loved watching their friendship flourish, born thanks to their several encounters. Anna and Marni, despite their different lives, know how to appease each other. They understand each other as if they have known each other forever . I really like the spiritual side of this film and as so often, we're dealing with a very touching end.
Je pense maintenant que vous avez de quoi faire pour quelques après-midi. Si vous vous laissez tenter par un de ces films, n'hésitez pas à me dire lequel ce serait. Et puis si vous en avez déjà vu dites moi en commentaire ou sur insta (@theblondmane) ce que vous en avez pensé. 
I think that now you have enough elements to be busy for a few afternoons. If you are tempted by one of these films, don't hesitate to tell me which one it would be. And then if you already saw some of them tell me in comments or on insta (@theblondmane) what you thought of it. 
PIN IT!
See you soon x
Diane